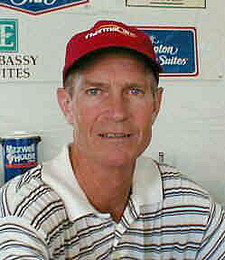 Chuck Mohr has caddied on tour full time for the past 18 years. He used to work for University of Nevada, and took a leave of absence, for six months in 1985, to see if he could get a job caddying, and has been on tour since. At first he went week to week, until Colonial that year, where he got to work for Mike Reid. Chuck worked for him full time, for the next 6 and 1/2 years. After that he worked 5 and 1/2 years for Larry Mize. Having had three wins with each player. Chuck caddied for different guys after his stint with Larry Mize, and then in 2001, he began working for Bob Estes full time. This win at Kemper was Chucks third now with Bob Estes, all in a period of one year. They previously won in 2001 at Memphis, then again in Las Vegas 2001, and now here at the 2002 Kemper Insurance Classic.


CaddyBytes.com -What would you say is your strength as a caddy?
Chuck -One of the big things in caddying is getting to know your player. Adapting to your player, getting to know what his needs are. Getting to know his strength, exactly what he can do. Sometimes when you're playing good, a guy becomes bullet proof, or can think they are and as you know these guys are very talented. These things Vary from player to player. Bob wants just a few things. He's a very smart player, one of the smartest players I've ever worked for. Doesn't make many, if any, mental mistakes on the golf course.
CaddyBytes.com -Stick with the routine. Especially under the gun, especially if you're in the hunt.
Chuck -You try to steer towards the club or shot that's a players strength in a given situation.
CaddyBytes.com -What do you think were the keys to the win here at Kemper?
Chuck -Bob never pressed on Sunday, we didn't make any birdies, with others making birdies all around us. And he could have pressed not birdying the par five 6th, as well as three putting from the front fringe on the 13th hole on Sunday, but he didn't. He remained patient, and then all making a charge around him faltered. His only birdie of the day was a four iron sand wedge, for birdie at 14. Sunday we made 17 pars and one birdie. Bob Burns went at that pin on the 16th hole, a risky play as you saw from the result and he made double bogey there. We didn't go for the pin knowing the potential and made par -a two shot swing for us.
CaddyBytes.com -How about at the 15th hole, a back left pin, and instead of playing to the right of it and feeding your shot into the bowl, you dumped it in the bunker in the left front of the green. A bad club?
Chuck -No. Bob wanted to hit three wood there and that left us a five iron in, and we just missed the target a little left, had it been a yard or two to the right it would have been alright. Instead it ended up in the bunker. Then he made the 15 footer to save par which was big there. He had made another putt just as big for par at twelve from about 8 feet too.
CaddyBytes.com -So sticking with your routine on Sunday and not varying it or pressing turned out to be a big factor resulting in the victory there. As you know, Kemper is a sneaky hard golf course especially on Sunday, if you get a wrong side miss out there, it's a diffucult up and down, and often results in a bogey.
Chuck -Again, Bob doesn't make many mental mistakes on the golf course, whether he's playing good or bad. This win really exemplifies that quality of playing smart -not pressing. And it paid off with another win.
Tournaments page - with more Winning Caddy Interviews

Back to our AT & T National
tournament's page:

More CaddyBytes 'Featured Caddy Stories'

More CaddyBytes Caddy 'Haul' of Fame Interviews

The Virtual Golf Tours are great visual golf tours of some famous courses...

Our Resource of Caddy Books provides you with a bibliographical resource of all the books ever written on, about, or by golf caddies! (*Now with Book Reviews added!)




See our Exclusive 2007 Congressional C.C. golf course Slide Show:

Back to our AT & T National tournament's page: