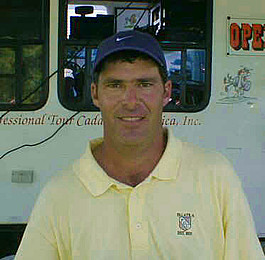 This was our Caddybytes winning caddy interview from the win at the 2003 Honda Classic on the 'old course' there. Now they are playing the Rees Jones design which is much more difficult. Brent and Justin won again early in 2005 at the Bob Hope Chrysler Classic in Palm Springs.

Brent Everson has been a caddy on the PGA Tour for ten years. Brent started caddying on tour in 1992 for David Toms, most of '92-93', Dudley Hart in '94', as well as for John Mahaffey for 3 or 4 months in 1995. Then in 1996 he picked up Michael Bradley's bag and worked for him full time for a five year stretch, and won at Callaway Gardens that year, and in 1998 at the Doral Genuity Classic. This win came in just the 7th tournament he'd worked for Justin Leonard at this weeks Hilton Head Golf Classic. (Again, this interview is about their win last year at Hilton Head!)

CaddyBytes.com -How did it go out there on Sunday? After 36 holes you were leading by one. Then leading by 3 going into Sunday?
Brent -Leading by three going into Sunday, made pars on the first twelve holes. Bogeyed thirteen and fourteen, to then lose the lead, got kind of windy thereafter. Parred the last four windy playing tough, and shot 74 Sunday, to win the tournament by one shooting two over par.

CaddyBytes.com -Two bogies and 16 pars on a very hard golf course in the wind. Small greens, and high shot values demanding the same execution wise. And you had that three shot lead going into Sunday on that kind of golf course. Was your player aware of scoring around him throughout the day, did he look at the boards?
Brent -He's aware of the leader boards, he'd look and make a note of where he stood and then go back about his business.

CaddyBytes.com -You've been at it out here caddying now for 10 or 12 years. Anything you did that week differently for this guy vs. other players that you've caddied for? What kind of preparation work do you do for this guy, that might be different than other guys you caddied for like Michael Bradley. Michael Bradley for example a long hitter who could overpower a golf course.
Brent -Justine plays two practice rounds, 18 on Tuesday, and then in the pro am on Wednesday. He's more of a precision player, doesn't take a lot of chances, nor make many mistakes, -he'll 68 or 69 you to death. Whereas a guy like Michael Bradley, when he's on can overpower a golf course. Justine is the most consistent and disciplined player I've ever worked for!

CaddyBytes.com -As far as the type of information that he'll ask you for. Is this is a guy for example who wants a lot of details before he plays a shot? Who arrives upon a decision by thinking it out very specifically, or does he not want a lot of information from his caddy?
Brent -Yeah, he'll want to know how the shot is playing. How the wind will affect it. How firm the green is, what we need to allow for the release into the green once the balls lands. Where exactly we need to land it at what distance, where we want our golf ball to end up relation to the pin on the green. Where not miss it etc...


Click Here back to our Honda Classic tournament's Page:

More CaddyBytes 'Featured Caddy Stories'

More CaddyBytes Caddy 'Haul' of Fame Interviews

The Virtual Golf Tours are great visual golf tours of some famous courses...

Our Resource of Caddy Books provides you with a bibliographical resource of all the books ever written on, about, or by golf caddies! (*Now with Book Reviews added!)

Signup for the CaddyBytes Newsletter Here: When you Submit your email address you will receive information about how to get a collectible BC PTCA Caddy Doll, as well as upcoming CaddyBytes News, Golf Product Specials and Giveaways! CaddyBytes.com will not share your email address with Anyone, Ever! (Also: We've recently updated our Email Security!)



Click Here back to our Honda Classic tournament's Page: