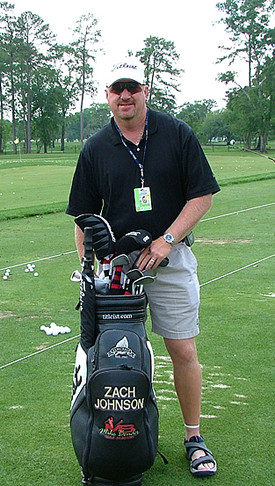 Damon Green became Zach Johnson's caddy in 2004 after moving from a job caddying for Scott Hoch the last four years. Zach Johnson was fresh off a great year on the Nationwide Tour and 'graduated' to the PGA Tour in 2004. Green is a former golf playing professional who played the Nike Tour in 1994 and 1995. He once just missed gaining his full playing privileges by one shot in the annual year's end PGA Tour qualifying tournament. This was his third win on tour as a caddy -this time with Zach Johnson here at the 2004 Bellsouth (Atlanta) Classic at the TPC of Sugarloaf. (Damon also did a 'Winning Caddy Interview' for us with a win at the 2003 Ford Doral Championship on the PGA Tour caddying for Scott Hoch who beat Jim Furyk in a playoff there. His first win as a PGA Tour caddy was also with Scott Hoch was at the Advil Western Open over Davis Love with Damon on the bag there.

CaddyBytes.com -That was a very difficult week for 'pulling clubs' in Atlanta where it was cold and windy all four days of the tournament. And the TPC Sugarloaf winds around in the forest there in Duluth with many shots subject to elevation changes and the wind steady at 15 to 25 mph with stronger gusty cross winds mixed in there all week long. As you know when the wind conditions change quickly there can be a lot of hesitancy in decision making requiring very good communication between player and caddy in order to make correct decisions. How many bad clubs do you think you guys hit there all week and what was your worst result from that decision?

Damon -Over the week I'd say five or six.

CaddyBytes.com - And how did those decisions result? What was your worst result for example?

Damon -They were just barely over or short of the green we didn't really hit anything in the hazard or anything like that.

CaddyBytes.com -So you and Zach had a three shot lead coming going into Sunday's final round there and the wind came up again even stronger on Sunday and it was cold again. I saw a lot of indecision again with wind gusts knocking the ball out of the air in many instances. How did that go Sunday?

Damon -We knocked it in the fairway bunker to the right off the tee and at the time we had a pretty good lead. (The fourth hole at Sugarloaf is a tricky and long par five hole with a creek all the way down the left side and that crosses into the fairway as well on the way to the green). He asked me if I like the wedge there and I told him "How about 5 iron down the right side there, you've got a good lie there and you're far enough back in the bunker that the lip isn't in the way or anything. So he hit's the five iron and proceeds to dead pull it left into the creek there. Then as he came out of the bunker he told me he just didn't feel comfortable with the five iron there. And I told him if you don't feel comfortable with a club then hit the club that You want -'Hit the Wedge' in that case -you won't hurt my feelings any because you don't like my choice. And he say's I know I just didn't like the club.

CaddyBytes.com -So now you make double bogey on a potential birdie hole and give up two to the lead ?

Damon -Yeah So that brings the field back to us but we didn't really know how we stood there all day as there aren't many leader boards out there. Except when we went by one on 10 and saw that we had a four shot lead playing on number 10 after Zach had just birdied the eight and ninth holes.

CaddyBytes.com -How'd it go the rest of the way on in?

Damon -We three putted two holes in a row for bogies on the next two holes. We really had no idea all day how we stood except for that time at #10 there. And you don't know until you get around to almost #16 and see a leader board to know how you stand.

CaddyBytes.com -So then with the conditions so tough and on that golf course a big number is always lurking should you hit a bad shot at the wrong time and no leader board then what was your and Zach's state of mind on Sunday's final round would you say?

Damon -Wasn't a whole lot of conversation going on, I wasn't trying to get in his head or calm him down or anything like that, we were just playing. Even after he made double on the fourth hole he didn't get mad or anything his attitude was very level and he made a good par on the next hole then went on to hit it to about 2 inches from the hole on the par five (6th hole) and then birdied 8 and 9. And really we didn't know how we stood with no leader board in site most of the day.

CaddyBytes.com -So now you see that you have a two shot lead with the par four 17th and par 5 18th to play with Mark Hensby posting a number just in front of you and you basically need to pars to win. How did those last two holes go?

Damon -So then we saw that we had a two shot lead we then sort of put it in 'protective mode'.

CaddyBytes.com -How did you play those last two holes strategy wise with the lead and chance to close it out now.

Damon -Hit a good tee shot on 17 and played a safe sort of shot left of the right hand pin with a two putt par there. Then he asked me 'Are you thinking what I'm thinking, and I said yeah' 'So we hit a three wood off the tee on 18 to play it as a three shot hole there and he killed it and hit it 320 with only about 220 to the front of the green there. (#18 -Our Featured Hole of the Week at Sugarloaf is a risk reward second shot into a firm green protected by a lake all around the left hand side and bunkers long and right). Then hit an 8 iron down there with about 120 to the hole and he hit a wedge and it spun and almost got into the water -two more rolls and it would have been but fortunately it stayed up and he went on and two putted for the win.

CaddyBytes.com -Great going and thanks again for talking to us and the fans at CaddyBytes!


Click Here back to our AT & T Classic tournament's Page:

More CaddyBytes 'Featured Caddy Stories'

More CaddyBytes Caddy 'Haul' of Fame Interviews

The Virtual Golf Tours are great visual golf tours of some famous courses...

Our Resource of Caddy Books provides you with a bibliographical resource of all the books ever written on, about, or by golf caddies! (*Now with Book Reviews added!)

When you Submit your email address you will receive information about how to get a collectible BC PTCA Caddy Doll, as well as upcoming CaddyBytes News, Golf Product Specials and Giveaways! CaddyBytes.com will not share your email address with Anyone, Ever! (Also: We've recently updated our Email Security!)
CaddyBytes.com is not affiliated with the PGA Tour, PGA of America, or any other Professional Golf Organizations, their officers or agents -Just the Caddies! All Caddy Stories that appear on this web site are exclusively owned by CaddyBytes.com. Any duplication, or copying of the material presented on this site is prohibited without the expressed written consent of CaddyBytes.com and it's owner(s)!








Click Here back to our AT & T Classic tournament's Page: