Caddy Bruce Edwards lost his fight with ALS on April 8, 2004 passing away in his home in Ponte Vedra, Fla. PGA Tour player Jeff Julian also passed away with the same disease in the summer of the 2004 golf season. In memory of Bruce and Jeff those who would like to contribute to Driving For Life Foundation to help find a cure for this insidious disease may still do so by clicking on the picture:


AOL User's Please Note: *CaddyBytes is best viewed in Internet Explorer, Mozilla, Netscape or any browser other than AOL's!


---

CaddyBytes.com was founded by veteran tour caddy and CEO Bob Whitbread in the Spring of 2002. Caddybytes is an ongoing weekly compilation of golf tournament stories, news, professional caddie profiles and interviews from our own unique 'inside the ropes' perspective. Our goal is to make CaddyBytes an interesting and enjoyable weekly experience for the on line fans of professional tournament golf.

Here's an overview of what's on Caddybytes.com:

Remember to visit the Tournament Pages for info about each weeks event on the PGA Tour. There you'll find the current week's and golf seasons schedule of tournaments on the PGA Tour and the world of professional golf. There you can read an overview or history of each weeks tournament, a winning caddy interview, or story from, about, or related to that individual weeks tournament.

-See our 'Virtual Tour's' -section of CaddyBytes.com where you'll find links to digital pictures, featured golf holes, and user friendly slide shows of some famous and great tournament golf courses like the Cypress Pt. Golf Club, Pebble Beach, The Old Course St. Andrews Scotland, Bethpage Black, Baltusrol, Firestone CC, East Lake Golf Club, TPC Sawgrass, and more. We'll continue to add more new 'Caddies Eye View' slide shows of tournament golf courses in 2006!

-Read from our archive of CaddyBytes.com's 'Inside the Ropes' -caddy stories related to the world of professional golf.

-Visit the CaddyBytes 'Haul' of Fame -and read our profile interviews with these veteran caddies many of whom have worked for 'Name' player's over the years!

-In our bibliography of 'Book's about Caddies' section you'll get to see our resource of all the books ever written on, about, or by golf caddies! (*Now with Book Reviews added!)

If you are planning to travel to Florida or Arizona at any time of the year then check out CaddyBytes Golf and Travel where you'll find an alpha list of the golf courses and resorts at which the public can golf, stay, and play, in any tournament city in the USA!

-And while you are at CaddyBytes.com be sure to check out our Pro Shop where you'll find great and unique golf gifts, teaching aids, golf clubs - we'll custom fit you, bags, DVD's, books, and much more all at affordable pricing and all with FREE SHIPPING. In 2006 we'll continue to keep pace and add new products for our viewers!

Thanks for dropping by! We hope you'll come back! Enjoy CaddyBytes.com once again in the 2006 golf season as we plan to get even better!

Click Here Back to our Home Page or navigate the right hand column links to check us out!


Tournaments page - with more Winning Caddy Interviews

More CaddyBytes 'Featured Caddy Stories'

More CaddyBytes Caddy 'Haul' of Fame Interviews

The Virtual Golf Tours are great visual golf tours of some famous courses...

Our Resource of Caddy Books provides you with a bibliographical resource of all the books ever written on, about, or by golf caddies! (*Now with Book Reviews added!)

Visit our Affiliate Golf Links!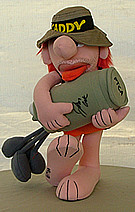 Get your very own limited edition PTCA Caddy Doll! For more information about how to get your very own PTCA Caddy Doll submit your email address Below:
Signup for the CaddyBytes Newsletter Here: When you Submit your email address you will receive information about how to get a collectible BC PTCA Caddy Doll, as well as upcoming CaddyBytes News, Golf Product Specials and Giveaways! CaddyBytes.com will not share your email address with Anyone, Ever! (Also: We've recently updated our Email Security!)
CaddyBytes.com is not affiliated with the PGA Tour, PGA of America, or any other Professional Golf Organizations, their officers or agents -Just the Caddies! All Caddy Stories that appear on this web site are exclusively owned by CaddyBytes.com. Any duplication, or copying of the material presented on this site is prohibited without the expressed written consent of CaddyBytes.com and it's owner(s)!

Contact: Email bob@caddybytes.com