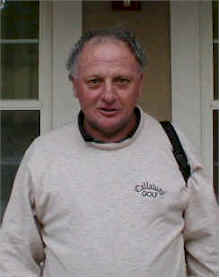 Andy Prodger has been a professional caddy for the past 22 years, mostly on the European Golf Tour. 'Prodge' has compiled 22 caddy-wins, two majors and been a part of some Ryder Cups for the European Team. Andy just caddied for Colin Montgomery in Europes Ryder Cup Victory over the U.S. Team, from the Belfry, Sutton Coldfield, England. He came into golf as a former scratch player and assistant golf club professional.

CaddyBytes.com -What was your background? How good a player were you?

Andy - I was once an assistant golf professional in Watford (England) at Hartsfeld Country Club. I got down to a scratch and tried to qualify for tournaments in the early 70's, was an AP for 7 years.

CaddyBytes.com -" How did you get into becoming a Professional Tour Caddy?"

Andy -I was taking a two week vacation from a job, in a plastics extrusion company I had at the time and I went to a tournament in Rome, Italy, spending a day and a half on a train, along with another caddy from Watford who they called 'Stan the Man', -started asking around the caddies who didn't know me from Adam, who might be open. That was in 1980, and some of the caddies told me that Nick Faldo had just fired his caddy and was out in the pro am pulling his own trolley. When he came in I asked him if he needed a caddy for the tournament and if so could I caddy for him. He said I could. We finished fourth that week, then he asked me if I would like to caddy for him the next two weeks also after that. I said sure, and the next week in Madrid we just made the cut and didn't play particularly well. But the following week we won the European PGA Championship!

CaddyBytes.com -So then it was 'off to the races' after that!?

Andy -I didn't want to stay working inside. So he employed me for the next two years and we won back to back PGA championships, and one or two other good tournaments, then we parted ways, then I came over to America and started caddying for Chi Chi Rodriguez. (1982), Caddied for him for about a year, other weeks worked for Tom Purtzer, Mike Sullivan, and Steve Melnick, managed to win the Phoenix Open with Tom Purtzer. Some more good tourneys with Purtzer. I worked around and ended back up with Faldo in 1986, and in 1987 we won the British Open at Muirfield. And then in 1989 won the Masters at Augusta.

CaddyBytes.com -How many wins overall have you been a part of?

I've got 22 wins, two majors, one world match play tournament, four European PGA Championships, 3 with Faldo, one with Montgomery. Worked for Philip Price just over the past year, (2001) -2nd week on the job we won the Portuguese Open. Now working for Montgomery. (Prodge got win #22 this fall 2002 in a tie/victory between Montgomery and Langer.)

CaddyBytes.com -What were some of your high and low points as a professional caddy?

Andy -Though we won two majors the most satisfying caddying job was in a loss in a U.S. Open at Brookline, when we lost to Curtis Strange in a playoff. If he, (Faldo), was making his 10 footers he would have won very easily, but he didn't. The 36 hole playoff on Monday was one of the most disappointing days on the golf course, we shot 74 and Strange shot 72, he got up and down from the boondocks, they both played terrible. Caddying ups and downs that was one of the downs. Masters in 1992, caddying for Craig Parry and we had a 3 shot lead after 57th hole, and then went on a 3 putt streak for 3 holes and the cheers were getting louder. We had been putting the ball exactly where you were supposed to be on those greens. Craig just lost the pace of the greens, and Freddy (Couples) went on to win the tournament.

CaddyBytes.com -So two lows, losing to Strange and losing at Augusta with 3 shot lead, and failing with Craig Parry. How about the two major victories with Faldo?
Andy -Both of those majors we won, we probably shouldn't have won. The first one (1987 British Open) we shot 18 pars the last day which was unusual. In the third round we played with Paul Azinger who played fantastic for the first nine holes, but felt uncomfortable on the back nine. The same thing kind of happened the last day, played with Stadler in the second to last group, Azinger got off to a good start again, but came back in and bogied the last two holes, to let us win. And at Augusta in '89' Scott Hoch three putted 10 to extend the playoff and we went on to beat him holing a putt on the 11th green.

CaddyBytes.com -What was it like to caddy for Faldo, was he particularly a demanding player?

Andy -He won't leave a stone unturned. His preparation was infallible, in his heyday he wanted to win majors. In the normal run of the mill tournament he used them for the upcoming major as much as 6 weeks in advance, -"this is the type of shot I need to hit on that particular hole and would actually play shots in that tournament -especially if he knew the golf course upcoming" -(on a particular hole like it was the one in the next major). So my job was grain, firmness, release, Faldo's edge -he felt all those details knowing them, gave him an edge. Not many guys do. You take notes, what ever to make your player happy.

CaddyBytes.com -I always thought that we learned as caddies from the players we work for and how they go about it. Would you say that's been your experience?
Andy -You learn by caddying for the top players, at Oakmont in '83' I worked for Gary Player, one of the best 'lessons' I ever had, he would ask me every time on every hole how much room was right or left of the pin, and he never missed on the short side, that was a major goal there all week.

Andy resides with his wife and daughter near Gleneagles Scotland, and currently is the caddy for Colin Montgomery.
Visit -The Caddybytes Pro Shop -it is a place that will 'fit' all your golfing needs!

CaddyBytes Home Page

More CaddyBytes Caddy 'Haul' of Fame Interviews



More Winning Caddy Interviews

More CaddyBytes Caddy 'Haul' of Fame Interviews

More CaddyBytes 'Featured Caddy Stories'

The Virtual Golf Tours are great visual golf tours of some famous courses...

Bethpage Black - U.S. Open 2002
Royal County Down - Senior British Open 2002
Cypress Point Golf Club - formerly part of the three courses played during the Bing Crosby/Pebble Beach Pro-Am
Pebble Beach - great views of the 8th and 9th holes!

Our Resource of Caddy Books provides you with a bibliographical resource of all the books ever written on, about, or by golf caddies! (*Now with Book Reviews added!)

Visit our

Affiliate Golf Links!

Signup for the CaddyBytes Newsletter Here: When you Submit your email address you will receive information about how to get a collectible BC PTCA Caddy Doll, as well as upcoming CaddyBytes News, Golf Product Specials and Giveaways! CaddyBytes.com will not share your email address with Anyone, Ever! (Also: We've recently updated our Email Security!)

CaddyBytes.com is not affiliated with the PGA Tour, PGA of America, or any other Professional Golf Organizations, their officers or agents -Just the Caddies! All Caddy Stories that appear on this web site are exclusively owned by CaddyBytes.com. Any duplication, or copying of the material presented on this site is prohibited without the expressed written consent of CaddyBytes.com and it's owner(s)!