The PowerBandz consists of a set of two 4′ bands with individual handles and includes a combination door and loop attachment. It can be secured in a door jam, on a golf cart, weight machine or fence pole for a warm up or total workout wherever you choose. It is available in two resistance levels.The GolfGym® PowerBandz are designed for the golfer looking to develop greater rotation, strength, flexibility and balance through golf specific movement patterns and exercises.

Use in-season and off-season.The GolfGym PowerBandz are designed to develop golf specific muscle movement patterns against resistance to ingrain those movement patterns in your body and mind. The PowerBandz are not designed for building muscle with as much resistance as can be generated. Heavier resistance doesn't necessarily translate into faster, more fluid swing speed.Therefore, Coach Joey D recommends the Medium Resistance for the average golfer who may or may not do any resistance training, and the Heavy Resistance for the golfer who does weight training regularly and considers him or herself very strong.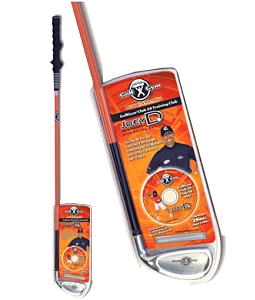 GolfGym Club 38 & Club 28
Weighted Training Clubs
38oz.(2.4 lbs) and 28oz.(1.75 lbs)
Exclusive design distributes the weight like that of a standard golf club: Half the total weight in the bottom third of the club.
Develop consistency by staying on plane.
Added weight increases flexibility and compels you to stay in balance.
Add power and increase your range of motion.The GolfGym Club 28 & Club 38 are approved for use on all the PGA, Nationwide and Champions Tour Fitness Trailers.
"There are many aspects to improving your golf swing: strength, balance, posture, grip, and proper swing plane are the first and utmost. By far the best package for this is the GolfGym specific golf exercise program followed by a workout with the Golfgym Club. Each does a specific job. A 7 to 10 minute workout with the GolfGym tones and strengthens the muscles used in the golf swing. Follow this with a couple of exercise sets with the GolfGym Club for balance, more muscle toning, and to keep you on plane thus hitting the ball much straighter. The results are phenomenal. In a couple of weeks you will be hitting the ball farther, straighter, in balance, on plane, and with more consistency. This is truly the best golf improvement package on the market today." Golf Professional Rick Koch
*Note this video pertains to the Power Bands above.
*Note this video pertains to the GolfGym above.