A view from the 17th fairway at the Cypress Point Golf Club looking back to the tee in distance. It's another short stretch of ocean to carry but the Pacific borders the hole all down the right side and into the green there (in the picture below):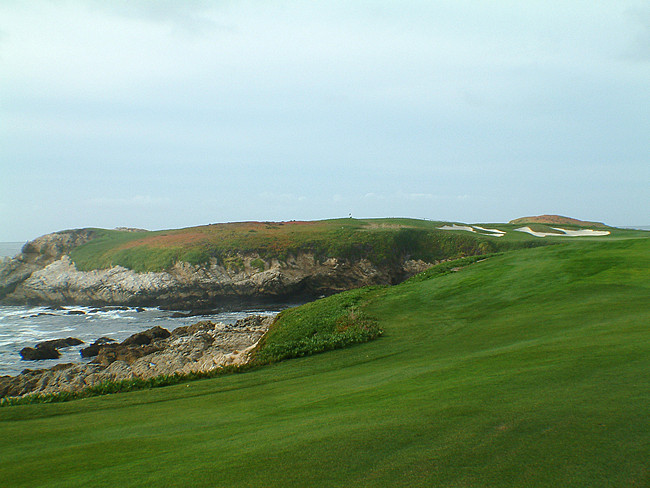 In the picture (below) the perfect placement of the tee shot on 17 is to the right of this cluster of cypress trees in the fairway (picture below) and is again a simple use of brilliant natural terrain while retaining the natural beauty of the golf hole by MacKenzie. This is a good look of the second shot into the green there:




If you fail to take it down the right side off the tee then you are better off way left or back behind this group of cypress trees in order to hit your second shot into the 17th green there. (In picture below)





Click Here to more pictures of Cypress Pt. views of the Par 4 17th Hole!
More golf course slide shows and pictures



Click Here to the next page of Cypress Pt. Golf Club pictures...

More Winning Caddy Interviews
More CaddyBytes Caddy 'Haul' of Fame Interviews

More CaddyBytes
'Featured Caddy Stories'
Our Resource of Caddy Books provides you with a bibliographical resource of all the books ever written on, about, or by golf caddies! (*Now with Book Reviews added!)
Visit our
Affiliate Golf Links!
CaddyBytes.com is not affiliated with the PGA Tour, PGA of America, or any other Professional Golf Organizations, their officers or agents -Just the Caddies! All Caddy Stories that appear on this web site are exclusively owned by CaddyBytes.com. Any duplication, or copying of the material presented on this site is prohibited without the expressed written consent of CaddyBytes.com and it's owner(s)!