Our CaddyBytes.com 'Featured Holes of the week', are from the remodeled Torrey Pines South golf course host to the 2008 United States Open golf championship. In 2001 Rees Jones was called in for a major redesign of the South course in order to attract a Major Championship with many holes lengthened, all the greens completely rebuilt and changed to bent grass, and newly constructed green side and fairway bunkers added creating one of the most brilliant, and complete 'makeovers', of a quality golf course to one of true major championship caliber. This was accomplished to the tune of $3,000,000.00 and completed in a 90 day span in 2000. The USGA liked the redesign but added one big change after a poor experiment to have bent grass on the newly redesigned South Course they are back to native Californian coastal Poa Annua! A great move and made it a great test with Tiger winning in the 2008 U.S. Open.
Our CaddyBytes.com tour begins with the still reachable 542 yard uphill par five 13th hole. (Pic's left) Here is a picture of the green from behind the hole looking back to the second and third shot landing areas and the tee box (off far in the distance). There are actually two tees on this hole, one right and and another to the left, presenting different angles to the fairway which is now protected, like all the holes on this redesign, with newly modernized fairway bunkering, and all in play for the pro tee shots.

The new bunkering is stepped into the hillside in the front of the green here. And makes the hole look 'old timey' like some of the great old 'masterpieces' of golf course design like Oak Hill, the Olympic Club, or Winged Foot back East.

You can see where the green is widened on both sides and protected in front, on the corners and back, with new tiering, new and deep bunkering, with the green almost always sloping away from those wrong side misses, making the recovery from mistakes more than difficult.
Here's a look of the second shot view into the 432 yard Par 4, 14th hole. The old green used to sit over more to the right where the tent is in the picture -off in the distance. (Pic's right)

This new green has been moved further back (lengthening the hole) and more to the left, now bringing the canyon just behind the green as hazard and into play there.

These two bunkers and canyon all down the left side, protect a narrow landing area which also slopes towards them. It's 274 and 285 yards respectively bringing both of these bunkers into play off the tee shot.

Jone's repositioning and elevation of many of the new greens, as evidenced in this second shot view here, often now position them against a visual backdrop of green, sea, and sky. This 'silhouetting' affects your depth perception and hit it long and you're in big trouble here.
Here's a view from the right side of the 14th green (Pic's left). Again you can see the great expanse and contouring along with the many new pin positions that Rees Jone's has created here.

Now you've got a fairly tight tee shot with a medium to short iron (possibly), into a narrow green that sits 'catty corner' to the second shot. This hole as well as the upcoming 15th hole often have the wind blowing at the players back (off the ocean) making balance an issue for the right handed player off both tees.

This pix (left) also gives you a good look back at this hole with the canyon down the left side and in play. (in the right side of pix left) You can also see how narrow the tee shot landing area and fairway are from this view.

In the next pix you'll see how the redesign has brought the canyon into play over the green, where in fact it 'does' drop 'off the world' there! (Pix below)
In this picture (right) -imagine that your drive is in the rough with a dry 'flyer' lie and you have to play into a back left pin position. You now have to 'guard' against hitting it over here!

There's almost no grass on that hillside sloping over the left side there, and any ball that goes over rolls into the hazard (denoted by the red hazard line in pix).

Imagine how tough this baby might play in dry conditions, (unlike this week), say about U.S. Open time in June and maybe with some wind added to dry out this elevated and exposed green!

They've definitely added some tremendous shot value, beauty, and some teeth to this one making it a great and potentially dangerous golf hole!
In this (Pic's left) is the second shot view from the left side of the newly renovated and lengthened 478 yard par 4 15th hole. They've really added some length to this one!

As you can see, should you hit it down the left side trying to really 'catch' a big drive here, you will have to 'work' your next shot from right to left into this newly redesigned green.

These are mature old eucalyptus trees on the left whose branches are very thick and rebel against the '90% of all trees as air' theory. You'll have to go under, over, or around them to manage your golf ball into the narrow opening in the front left of this new green here.
Here's a look back from behind the green back down the fifteenth fairway. (Pic's right) You can see how this long par four hole bends around to the left around those trees in the last pix.

Again here, Rees has redone and elevated this green, with an entry way run up possible in the front left, but with a waste area below and left of that should you miss it there.

There are many possible pin positions on this green as well, protected by the bunkering and the reality is that it's a midiron into this one now!

There is also a large portion of the 15 th green not visible to the left (back right of the new green) in this photo, which is protected on a corner by that bunker in the foreground left, to an elevated, ample and tiered, back right pin position.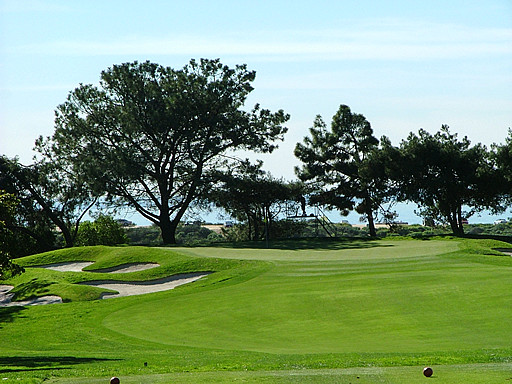 Our Pix of the lengthened 223 yard par three 16th hole (Pic's left) is from behind the green looking back at the tee off in the distance.

Again, this green has been recon toured, modernized, and widened with a larger and new back left corner pin position protected by the newly styled bunkering as well.

It's a long iron into a golf hole that was already pretty good before and is even more so now. The wind is often playing in from the right off this tee at the time that the Buick is played as it is here during the winter season.

That just makes the hole play that much longer and tougher. The front tee box is more likely to be used with the back left pin position and with the new 'shot values' added by the Rees Jone's design change here as well.
In this (Pic's right) is a view of the new and narrower 442 yard Par 4, 17th hole from the green looking back. The tee shot has been tightened up quite a bit in the new redesign, with a bunker on the right side in play off the tee at 280 yards and 'protected' left as well, by rough and canyon.

If you try to play short of the bunker now with a three wood, you'll leave yourself with too long an uphill second shot into this new green.

You can get an idea of the contouring and widening ( as in all the pix of the these renovated greens) with the accompanying new bunkering protecting the pro pin positions that have been created by the redesign.

Again, the pins can be tucked and made as difficult as they want, so you want the shortest uphill second shot possible into this green.
Our final view is from behind the lengthened 570 yard par five finishing hole at Torrey Pines South. (Pic's left)

There are a new series of bunkers off the tee beginning at 290 yards on the left and 310 yards on the right side (not in pix). This now leaves a long second shot into what used to be a very reachable par five hole here.

Not any more though. You'll really have to catch a good one -long and straight, to have a good enough chance of carrying the pond in the front of this green and get home in two.

A lay-up third shot is more likely the play now to a protected, widened and tiered green, with new pins on the front and back corners.
Which hole will be the most pivotal in this weeks tournament?

We don't know yet but you can certainly see the potential that these last six holes may present to the golf professional and his caddy here this week. And the potential for some great finishing drama here as well at this weeks Buick Open Golf Classic. See our Exclusive Slide Show of back nine holes of the:
Torrey Pines South
tournament golf course! Click to go to more 2010 Farmers Insurance San Diego Open News Stories:
Click Back to our Farmers Insurance San Diego Open Tournament's page!




Tune into San Diego TV channels and catch up on the latest San Diego local news from the comfort of your own hotel.


Tournaments page - with more Winning Caddy Interviews

New in 2010: Golf and Travel is the place to go on CaddyBytes for golf courses travel to info places to stay and play!

Golf News of the Day is the place to go on CaddyBytes for daily stories from around the world of tournament golf!

More CaddyBytes 'Featured Caddy Stories'

Read our exclusive caddy 'Haul' of Fame Interviews!

The Virtual Golf Tours are great visual golf tours of some famous courses...



Our Resource of Caddy Books provides you with a bibliographical resource of all the books ever written on, about, or by golf caddies! (*Now with Book Reviews added!)



2008 Ryder Cup
Highlights DVD -
U.S. Wins!
Click Here:




New in updated model in 2010!
The Sonocaddie
Personal GPS
Yardage Caddie
Click Here:

2008 Ryder Cup
Official Leroy Neiman
Tournament Posters
& Commissioned Art
Click Here:



Portable Silent Driving Net:
Quick & Easy to set up or take down.
7 & 1/2 feet tall by 10 feet wide. Double layered, full internal wrap, two nylon nets - second net covers entire inside of net!
Click Here:



The Smart Stick:
- eliminate ugly slices & hooks
from your golf game. This device provides instant feedback, allows you to see mistakes, & helps make immediate corrections!
Click Here:


Signup for the CaddyBytes Newsletter Here: When you Submit your email address you will receive information about how to get a collectible BC PTCA Caddy Doll, as well as upcoming CaddyBytes News, Golf Product Specials and Giveaways! CaddyBytes.com will not share your email address with Anyone, Ever! (Also: We've recently updated our Email Security!)




Click Back to our Farmers Insurance San Diego Open Tournament's page!

See our Exclusive Slide Show of back nine holes of the: Torrey Pines South tournament golf course!

CaddyBytes.com is not affiliated with the PGA Tour, PGA of America, or any other Professional Golf Organizations, their officers or agents -Just the Caddies! All Caddy Stories that appear on this web site are exclusively owned by CaddyBytes.com. Any duplication, or copying of the material presented on this site is prohibited without the expressed written consent of CaddyBytes.com and it's owner(s)!