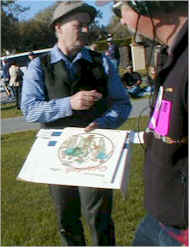 2002 AT and T Pebble Beach Celebrity Invitational, the Jack Lemmon award, and some stories from Jack about caddy past at the Crosby!

Bill 'Carl Spackler', Murray once again graced the field at this years AT and T Pebble Beach Pro Am, with his comedic antics while playing alongside his usual pro partner -golfing professional Scott Simpson. Long, (on humor), like 'The Lama", 'Carl', a former 'Pro Jock' himself, bestowed his own special hybrid brand of golfing humor 'Lighting his golf gallery Giddy' like a '60's Monterey Pop audience on a batch of good old 'Northern California Sensimia'! Hopefully, he 'Remunerated' his Looper for services rendered this week...with more than just the laughs or 'Total Consciousness' as once promised 'Shack' character Carl by 'The Lama' !
Other celebrities included former S.F. 49er NFL football player Harris Barton, signer/songwriter Michael Bolton, Glen Campbell, former tennis star Jimmy Connors, Alice Cooper, Kevin Costner, Carson Daly, actor William B. Devane, comedian Tom Dreesen, Clint Eastwood, actor David James Elliot, Glenn Frey, formerly of the 'Eagles' singing group, Kenny G, baseball star Mark Grace, opera singer Thomas Hampton, baseball great Reggie Jackson, actor Samuel L. Jackson, comedian Kevin James, Huey Lewis, Bill, (Carl Specker) Murray, Craig T. Nelson, Chris (Robin in Batman), O'Donnell, Maury Povich, Ray Romano, comedian Tommy Smothers, Donald Trump, singer Clay Walker, and actor James Woods.
The weather was perfect for the second straight year, which resulted in some great golf, celebrity hunting and viewing for the golf fans attending. (Though there was some light rain and hail on the Monterey Peninsula on Monday). It also gave the Tour Caddies a reprieve for a second straight year from the usual bad weather caddying that is expected when you work the tournament there in mid winter. Aside from the usual equipment in the bag, the added peeling off of layers of player clothing added to the bag weight, and the confounded walking on hilly and wet turf, primarily at Spyglass, and 'Sloppy' Poppy Hills. It's been said by more than one Tour Caddy, that a 'win' at Pebble each year is simply to have not slipped and fallen down with the bag 'en masse', during the tournament that week.
Caddying has had a long history at the Clambake, as it used to be called under the tutelage of its former founder Bing Crosby. And the former 'Crosby' tourney was a forerunner, along with the Bob Hope Desert Classic, to the formation of what is now a successful and wealthy PGA Tour organization. In those early days professional golf needed the celebrities to boost fan interest, attendance, and eventually national television coverage.
"The golf tournament, I believe, was a success if for no other reason than the opportunity it afforded the amateurs a chance to meet and play with some of the great golfers of the day, and for the professionals to establish a social relationship with some of the people who played and supported the game," Crosby said.
Jack Lemmon was sorely missing by his absence and passing recently. The revered former celebrity actor and comedian and thirty year participant of the tourney always offered lots of laughs for the gallery at the Pro Am each year. But it was his warmth to his audience and perseverance to finally one year make the cut in the tournament that every common man and fan of golf could really identify with. Mr. Lemmon never made that cut in the tournament but he certainly did in the hearts and minds of us all. And he will be sorely missed. As a tribute to the veteran actor the 'Clambake' will now present the annual 'Jack Lemmon Award' to the amateur winner of the AT and T National Pro Am.
Jack once related a 'notable' caddy experience of his own in 1969 -his first year playing at the Crosby. (As related in the Monterey County Herald, Feb. 1, 2002 edition.) ...Upon arriving on the Monterey Peninsula to make his debut, Lemmon received a message stating that his hired caddie would be unable to make it. So Jack hurried off to the Pebble caddy barn to find a replacement. "I looked around the caddie pen and this fellow, and older guy with a big, heavy overcoat, comes up and says he'd like the job. I learned later that he was one of the great lushes of all time, but at this minute he was sober." "So I pick him up at Pebble in a car I had rented and we head for Spyglass. His breath is so strong my eyes start to water. It's 8 a.m., and he's smashed."
"Well, on the first tee I hit a pretty good 3-wood, take a bow for the gallery and start walking down the fairway, still carrying that 3-wood. I'm on top of the world." "Next thing, I turn around and my caddie is gone. He's searching for my bag. Lost it on the first tee. Finally, he finds it and comes rumbling down the fairway, lurching and stumbling. About a hundred yards off the tee, on a piece of perfectly flat ground, he slips. My clubs fly out of the bag and he's flat on his ass." "Then, on the second hole, I hear this tinkling, like jingle bells. I don't know what the hell it is, Lemmon said. "Then, the sun comes out, and off comes that big coat, hitting the ground like a 10 ton rock. He had pint bottles stashed away in the lining, four or five of them clanking together on the bottom!"
Click Back to our Pebble Beach National Pro Am Tournament's Page!

More CaddyBytes 'Featured Caddy Stories'

Tournaments page - with more Winning Caddy Interviews

Read our exclusive caddy 'Haul' of Fame Interviews!

The Virtual Golf Tours are great visual golf tours of some famous courses...



Our Resource of Caddy Books provides you with a bibliographical resource of all the books ever written on, about, or by golf caddies! (*Now with Book Reviews added!)

Visit our Affiliate Golf Links!

Signup for the CaddyBytes Newsletter Here: When you Submit your email address you will receive information about how to get a collectible BC PTCA Caddy Doll, as well as upcoming CaddyBytes News, Golf Product Specials and Giveaways! CaddyBytes.com will not share your email address with Anyone, Ever! (Also: We've recently updated our Email Security!)

More CaddyBytes 'Featured Caddy Stories'

Click Back to our Pebble Beach National Pro Am Tournament's Page!