Peter Jacobson and Jim Hardy designed the Red Stone Golf Club that hosted the 2003, 04, and again this years 2005 Shell Houston Open golf tournaments. Length is the key word in the design plans of today's new era of tournament golf courses. Red Stone CC and the new Rees Jone's designed adjacent tournament course coming into play in 2006 both reflect that change. This course is carved out with home development in mind with long walks from tees to greens including a very long walk from one end of this massive tract of land to the other. The par 5's are all 560 to 580 yards, with the par four 16th hole at 477, and the par FOUR 7th hole at 455 to a whopping 498 depending on how the tour staff sets it up for the day. (And there's a lake guarding the entry to #7 as well!) These kinds of changes had to take place in today's era with 430 yard par fours being played with 7 or 8 irons into the greens which makes missing fairways and hitting into the rough almost inconsequential. Hit it in the rough on these long par fours and you are again penalized as you should be. Peter Jacobsen has designed greens that are receptive but that slope away in their respective 'quadrants' penalizing poor plays and rewarding the correctly played shot into today's pro pin positions. There are also many forced carries over water hazards that inundate the golf course strategically coming into play on many of the second shots into these greens.
The 13th hole is a 196 yard par three reflective of the Jacobsen Hardy design theme. The pro pins are receptive to high well struck golf shots into their respective quadrants.

To have a good opportunity for the desired birdie you must hit the correct shot into the correct quadrant of the green's daily pin position.

Should you miss a shot long here or say left to a right hand pin the green will slope away in the middle to back making two putts more difficult.

Having to two putt when putting back over a ridges always becomes a speed issue and requires some work for your par of 3.




The par 4 14th hole is a bit of a tight tee shot with a play down the left center off the tee being optimal into a green that is again separated by a ridge in the middle which slopes away and a crowned green that will repel a bad shot or 'hot one' from the rough.


Miss the fairway and you will have a difficult time running any shot into this green. If you run it through the front right you're liable to go through and over.


You can see how severe the slope is should you miss it long here making an up and down for a par four no guarantee here.




-The wind direction and whether or not your tee shot has found the fairway will determine how you play it into this par five 15th hole.



You'll need to be left in the the fairway on any lay-up shot, but avoid that first cross bunker short of the green. Go for it in two and there is also a bunker guarding the opening for any play 'into' this big green.


The back right pin is the most difficult with the green sloping forward there over the bunker and falling off dramatically to the right and 'over'.


The long par four 16th hole at 477 yards is a good example of water coming into play. Miss it left in the rough and you must try to run it in to a small opening guarded by a pond left and deep bunker short and right.

Miss your tee shot right and you now have to fade a shot into a green from no 'angle' of advantage with the water left coming into play for any 'hosel' grabber from the four inch rough.

The play from the right hand 'bail out' bunker is no easy up and down. Jacobsen does something interesting as well with the bunkers at Red Stone. Many of the faces are sloped to catch and hold the golf ball giving you an uphill lie in what would otherwise be a simple bunker shot for today's playing professionals but not necessarily here at Red Stone.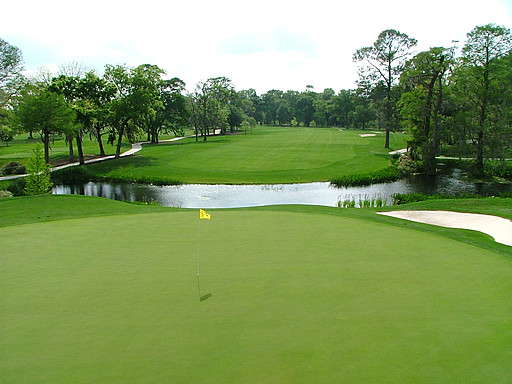 You can cut a little off of the par four 470 yard dogleg right 17th hole at Red Stone but don't miss the fairway or hit it into the bunker left.



If you do then you'll be faced with assessing your lie and chances to carry the water cross hazard which fronts the green on this long par four hole.


It's not out of the question to see today's playing professionals into a forced lay-up here with a high level of risk reward on any second shot attempt from anywhere but the fairway.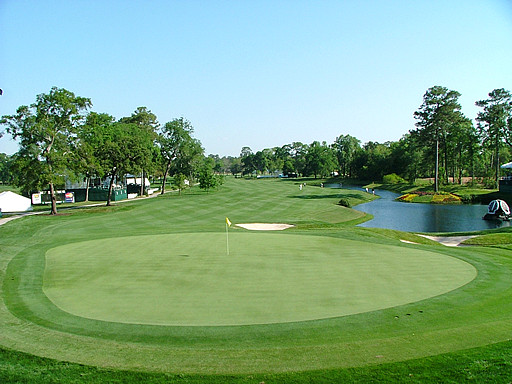 The 449 yard par four 18th home hole is protected by water all down the left side off the tee and into the green.

Should you 'bail out' into the right rough off the tee then controlling your second shot with the correct trajectory and spin will be nearly impossible from any type of difficult lie in the rough. Particularly into the pro pins here into a green that is crowned and elevated slightly sloping away as well, making any running shot into a narrow right front entry no guarantee of a good result.

It's a good and interesting par four finishing hole that will test particularly the nerves of any one shot leader coming into the 72nd hole of the Shell Houston Open with a chance to win on the line.
Click Here to our New 2005 Slide Show of the Red Stone Golf Club:

Click Here back to our 2006 Shell Houston Open tournament's page:

Tournaments page - with more Winning Caddy Interviews
More CaddyBytes Caddy 'Haul' of Fame Interviews
The Virtual Golf Tours are great visual golf tours of some famous courses...

Our Resource of Caddy Books provides you with a bibliographical resource of all the books ever written on, about, or by golf caddies! (*Now with Book Reviews added!)
Visit our
Affiliate Golf Links!
CaddyBytes.com is not affiliated with the PGA Tour, PGA of America, or any other Professional Golf Organizations, their officers or agents -Just the Caddies! All Caddy Stories that appear on this web site are exclusively owned by CaddyBytes.com. Any duplication, or copying of the material presented on this site is prohibited without the expressed written consent of CaddyBytes.com and it's owner(s)!

























































































Click Here back to our 2005 Shell Houston Open tournament's page:


Click Here to our New 2005 Slide Show of the Red Stone Golf Club: